NEW YORK ALLIANCE FOR TRANSPORT AND LOGISTICS ADVANCEMENT SERVICES
Focused in the South Bronx, NYATLAS is a three year grant-funded initiative with the purpose of creating long-term and permanent career tracks for our emerging workforce, young people ages 18-24. NYATLAS is a partnership between NYC DOE, the Labor movement, CUNY, youth service groups and foundations.
Through this grant, we are the 'middle-man' between unions and employers. We are working with employers to identify the 'in-demand' occupations, design trainings and certifications to programs for support, bring industry awareness and career specific training curricula into schools and provide pre-screened, pre-trained and credentialed local workforce to employers.
We understand the challenges young people face in the Bronx.
Did you know?
Bronx residents between ages 18-24 have about a 25% unemployment rate throughout the Bronx.

Those employed face low wages and lack of security and benefits from their employers.

Unfortunately, young people leaving high school and entering post-secondary education are not linked to institutional employers or provided gainful employment opportunities.

Young people are unaware of in-demand career pathways and the skill sets needed to succeed once employed.

Employers are having difficulty in finding a skilled workforce for their open opportunities.

Employers are actively seeking other outlets for skilled workforce due to high cost of hiring and internal training.
We understand the lack of resources available in New York City in supporting qualified applicants and creating a revolving door for new hires - and through NYATLAS, we plan on creating that opportunity.
Minimum Program Requirements
Must be between the ages of 18-24
High School Diploma or GED Equivalency
Valid Clean Drivers License
An ability and desire to work with your hands
Ability to communicate in English
Read and write at or above 9th grade level, basic mathematics connected to industry
Must be comfortable standing for extended periods of time, and able to lift 30 pounds
Employment in this field universally requires drug screening by employers
In partnership with Bronx Community College, CWE design an employer informed short burst industry workforce preparedness course that would provide participants with the skills and credentials to enter into NYATLAS' three-year New York Mechanic's Apprenticeship Program (NYMAP) or directly into the industry as an entry-level service transport technician.
Curriculum includes classroom and tracked online courses in shop safety, emissions, and tool usage. Participants emerge with three nationally recognized SP/2 industry certifications, including Mechanical Safety, Chemical Hazard Disposal and Supervisor's course. In addition to the job specific skills and certifications, participants learn the critical elements of shop safety, tool knowledge, time and task management, team work and workplace communications.
The length of the training is approximately 4 weeks. This program includes a stipend and metrocard for each participant.
Commercial Drivers License (CDL)
In partnership with SoBro and Hostos Community College, CWE will be offering NYS Commercial Driver's License (CDL) and NYS class B (regular driver's license) courses.
Training will be scaled to meet the need of the individual participants. Those without a State drivers license's will be provided with classroom and road test preparation, to attain their State driver's license and then move into CDL permit, test and road test preparation.
The length of the training (for even the least prepared) is approximately 10-14 weeks. This program includes a metrocard for each participant.
Auto Diesel Mechanic Apprenticeship
In partnership with the International Association of Machinists District 15, CWE has founded New York Mechanic's Apprenticeship Program (NYMAP), a three (3) year NYS Department of Labor certified apprenticeship program for Diesel Engine mechanics.
While employed, apprentices continue to learn their trade and gain valuable industry credentials both on the job and in related instruction provided by CUNY Bronx Community College. In addition to industry specific skills, our apprentices also earn college credits for their time in the program to go towards continuing their post-secondary education.
Participant Testimonials
We are proud of our program participants and want you to hear their personal experiences of our first stages of the program. Here are some thoughts from a few participants:
"I came into this program with basic car knowledge and this program was very helpful with initial learning and placement. Our online learning covers more ground for us to learn more information."
Samuel Carrillo, BCC Automotive Apprentice
"Program has really improved my quality of life. I am earning a lot more than I would have before and it's a fun experience. There are a lot of obstacles that you get through here and the programs help."
Walter Martelly, BCC Automotive Apprentice
"I was always looking for new opportunities. I wanted an internship type of job to build up a career. Some people don't care to know these kind of things and I do. I try to encourage others to do this because this helps with stability because we are part of a union. Overall, this has been a great opportunity."
Jose Castillo, BCC Automotive Apprentice
"Things have been really great here. I would tell the next group of participants to remember to always ask questions and be a hard worker. Working as team and being willing to answer questions is key to success here."
Joseph Cassar, BCC Automotive Apprentice
"This went from a hobby, where I would spend time on my own working on my car, to learning and taking my skills to a higher level and now into a full career."
Chad Ingram, BCC Automotive Apprentice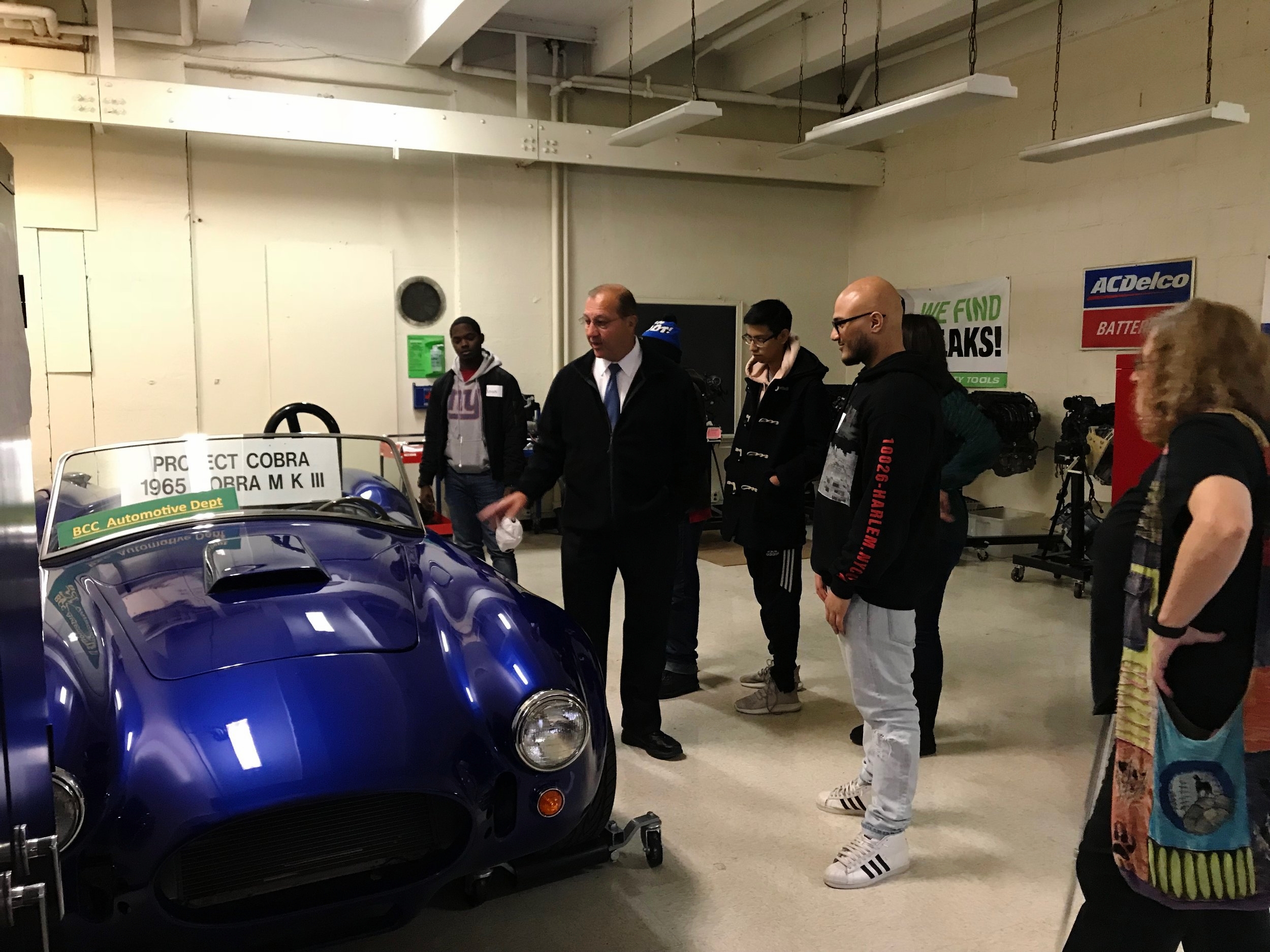 Thank you to our partners!